Mobile Batch Scanning to My Movies for Mac OS X
You can add a large number of titles to your collection quickly by using the barcode scanning feature in My Movies for iPhone or Android. Instead of bringing all your movies over to your computer and adding them by typing in the title or the barcode, you can just bring your mobile device to your movie shelf and add your entire collection quickly.
This short guide will be illustrated by screenshots from both an Android smartphone and an iPhone.
Synchronizing your collection
First you must make sure that your collection is synchronized with our server. This is very simple in My Movies for Mac OS X, as your collection should always be synchronized with our servers, like it is on a mobile device. If, for some reason, you have not had your collection synchronized, click the "Synchronize" button at the top left corner of the main window.
Adding titles
Adding a large number of titles at the same time is quite simple. On your portable device select the barcode scanning feature on the main screen. This will activate the device's camera and take you to the screen you see below.
To add more than one title on an Android device, you must tap the icon at the bottom left so it says "Multi scan" rather than "Single scan". On an iPhone tap "Off" in the bottom right corner so it says "On" instead. If you add a title using single scan, immediately after the barcode is scanned you will be taken to the next screen. By switching to multi-scan you can scan more than one title at once, and you can choose if the portable device is to vibrate, beep or not send any particular signal to indicate that the movie has been scanned. You also have the option to turn on the camera's light if lighting is an issue. When the barcode has been scanned, just pick up the next title and place the barcode in the appropriate position in front of the camera. Repeat until you are done, which you can indicate by tapping the icon at the top right corner of the screen on an Android or by tapping "Done" in the top left corner on an iPhone.
When you are done you will be taken to a screen where you can verify that all titles were scanned properly. This screen will also let you know if you scanned some titles that are already in your collection.
Once you have verified the titles tap "Add movie/titles" and you will be taken to the following screen. Here you have to choose which group you wish to add the titles you have scanned to. Usually it would be "Owned, for Keeps". This depends on your settings though; you might also not see any screen like this at all, or a more detailed screen where you can enter personal information.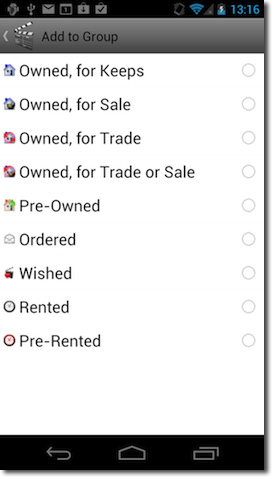 After choosing which group to add the titles to you will be taken back to your normal collection listing, where you will be able to see the titles you have just added.
When your titles have been succesfully added to your mobile device, you may have to synchronize your collection in My Movies for Mac OS X again. However, this should happen automatically when the program starts.
This concludes the guide on how to add a batch of titles to your collection in My Movies for Mac OS X using your mobile device's barcode scanner. If you experience any further problems, please see our support forums for more.